You are this page because you have recently placed a deposit for one of our French Bulldog Babies.
Here is some information for you that may be helpful in preparing for your new family member!
As a member of our "Puppy Family" please take advantage of all the tools and resources we can provide you. By being involved and prepared BEFORE your new baby comes home, you will have a much better chance at the experience being low stress, joyful and most of all successful!
1.) Access to 24/7 puppycam - watch your baby grow and develop at any hour of the day or night.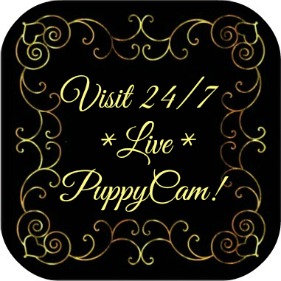 Tips in Viewing the live Puppycams:
You may or may not be aware that the momma "diapers" the new babies to stimulate thier bowels and bladders to evacuate. This is neccesary, otherwise the pup will not deficate or urinate on it's own and it is very unhealthy. Momma will continue to clean the pups and consume thier urine and feces well into 3-4 weeks of age. Once the pups are sucessfully eating soft mash in the morning and evening, and drinking from the water bowl, they are weaned. This usually occurs between 5 to 6 weeks of age. By that time momma is having a negative impact on her own digestion because of all the feces the puppies are producing, which she is still eating.
At 3-4 weeks of age the puppies also graduate from the covered wading pool and have access to the entire apartment.
The puppies have their dewclaws removed at 5 days of age. They are wormed and and nails trimmed at 3 weeks of age. Then another worming, nail trim and weaning at 5-6 weeks of age. The puppies first Vaccinations are given at 7 and 10 weeks of age. ( we administer our own vaccinations here, we use Nobivac Canine 1-DAPPv or 5 way - Parvo, distemper, hepatitis, influenza and respiratory)
The puppies are then ready to go home with you as early as 10 weeks of age. It is our professional standard as well as state and federal law that we do not release any puppies before the age of 10 weeks old.
2.) To prepare mentally as well as physically for your new baby - we have a page that walks you thru:
The Required Reading is just that - REQUIRED - We reserve the right to refuse to place a puppy with you if you are not prepared physically or mentally for a new puppy.
As you go thru the information and you have any questions about it, please email or call us right away so we can help you.
3.) Here is also an additional resource page with training videos and free ebooks:
4.) You are totally encouraged to come and visit your pup while we are raising your new baby!
We are available 7 days a week from 10 am to our last available appointment time of 3 pm. Visiting hours are limited to provide our dogs and puppies with a solid structured schedule of stimulation and rest every day. This is also necessary for us to schedule chores, projects, breedings, testings and other visitors around your scheduled appointment time. Visits every week of an hour or two is perfectly fine if you can fit it into your schedule too.
---
Pictures are usually done on a schedule of 2-5 days of age, 3 weeks old, 5 weeks old and 8 weeks old. It takes a day or so to process them (crop and watermark) and then they are posted to this picture page. Please be sure that you save the pictures that are on there now as they will be replaced when I post new ones. Please remember that you are always invited to come and visit in between (or anytime) and take pictures of your own. YouTube Videos are done and posted here at the age of 6-8 weeks old.
---
* If you would like to receive an automatic notification of when I update pictures and video, please sign up with your email for the change detection service you will find on your puppies picture and information page.
Please be sure to save the current pictures I have posted, when I take new ones I will be replacing them on the page. We appreciate your understanding if we need to be a bit fluid in the schedule based on emergencies and other priorities occurring.
6.) Access to contact info for the other families that have purchased siblings of your puppy - If you do not want your information shared with the other families, please let me know right awy. We respect your privacy.
And last but not least - always remember that we are here to support and encourage you for all the years your fur child is part of your family. We LOVE updates and pictures of the babies as they have their adventures in life!
Thank you for choosing one of our babies to be yours and supporting our Kennel!
Vic and Mary Kasser `````` Umpqua Valley Kennels LLC - Oregon `````` uvkennels@gmail.com ``````` 541-459-5951
---